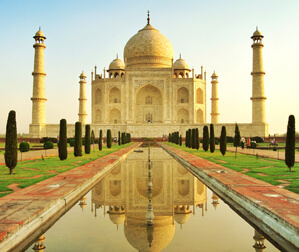 State:
Agra is the city of Tajmahal situated in the northern India's Uttar Pradesh state. It is the most popular tourist city.
Attractions:
Tajmahal is a mausoleum built by the Mughal emperor Shah Jaha in the memory of his favorite wife Mumtaz. Taj Mahal makes whole country's pride as it is one of the Seven Wonders of the world and it is also included in UNESCO world heritage sites.
Agra Fort, located on the right bank of the river Yamuna is also known as Lal Qila or Red Fort built by the Mughal supremo Akbar. It is also included in UNESCO world heritage site.
Fatehpur Sikri is a magnificent monument which was built by Mughal Emperor to honor Sheikh Salim Chisti. It is also included in UNESCO world heritage site.
Itimad-ud- daula's Tomb is a Mughal mausoleum also called "Baby Taj Mahal". It is a great structure made by using pietra dura and marble.
Akbar's Tomb is an excellent architecture constructed by the Mughal emperor Akbar and then it is completed by his son Jahangir.
Buland Darwaja, Jama Masjid, Moti Masjid, Chini ka Rauza, Guru ka tal, Ram Bagh, Mariam's Tom are some other attractions of the tourists.
Nearest Airport:
Agra airport covers an area of 4395 square meters. Agra airport is a military airbase and one of the largest airbases of Indian Air Force but it doesn't have public airport.
Bus Service:
As Agra is famous for tourist attraction, it is well connected to the road and regular buses are available to the other cities. The local transports like city buses, cab service, auto are reliable to visit to explore Agra.
Food:
Agra's most popular sweet and delicious dish is Petha. Petha is a soft candy made from ash ground as it has many flavors like white, saffron, pineapple, strawberry, mango etc. Other delicious dishes are Chaat like Allo Tikki, Samosa, Papri Chaat, Pani Puri, Dahi Bhalla, Dalmoth etc.
Best Time to Visit:
The best time to explore Agra city is in winter season from November to March. This is the time when the height of tourists come here to visit as the weather of this time period is too pleasant.
---